A Sizing Guide
---
Your Sportsupport Enell bra is not like any other sport bra on the market today. It is going to fit and feel completely different.
For the very best fit, please do not refer to your current bra size. Sports bras for large breasts require exact measurements to ensure a bounce-free fit.
Take your actual measurements around the fullest part of your bust and around the rib cage directly under your breasts.
As there is no 'universal' bra size use the measurement chart below to establish your size. If you fall 'in-between' sizes choose the smaller of the two as this will give you more support.
The bra should feel tight yet comfortable. Your first reaction may be that it is too small – it probably isn't – you are just not used to this much support.
THREE EASY STEPS TO FIND YOUR PERFECT FIT
---
BUST MEASUREMENT
While wearing your everyday bra, measure around the fullest part of your bust. (no padding) - (1)
RIB MEASUREMENT

Measure around the rib cage directly under the breasts. - (2)
SECURE FIT

Refer to the ENELL size chart to see which ENELL size is your perfect fit.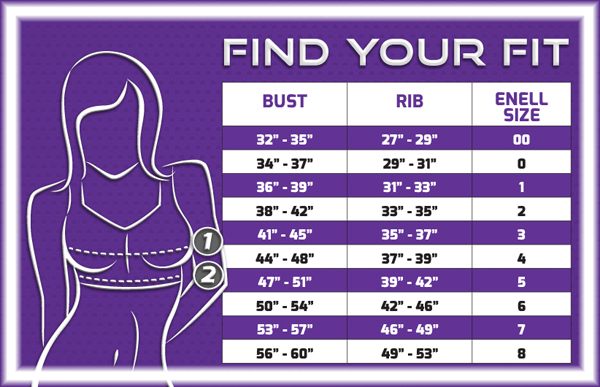 If your size is not located on the chart then a custom order can be placed.
Please contact Sportsupport and we can establish your measurements.

*Please Note - Sizing measursements are specific to both the Sport Bra and to the Lite Bra